Bad Boy'Z Story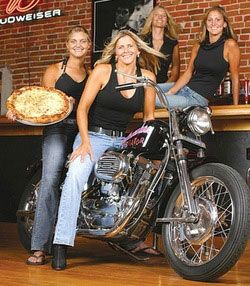 We are currently closed for service and will reopen when mandates are lifted. We are still booking parties so please send inquiries via our website and we will contact you the same day.
Bad Boy'z Pizza serves in three different locations, Moline, Davenport and Downtown Davenport at River Music Experience. We're the best cuz we steal from the rest. Our restaurant and bar stays open late not only on weekends, but weekdays, too. The excellent wait staff at both locations are fast and friendly. Bad Boy'z specializes in Quad City Style Pizza and daily specials – be sure to keep an eye out for those. Here you will find the menus for our three locations. We also offer food carry out and pizza delivery options at your convenience.
We have a full bar at all three locations with 24 taps in Moline, 32 taps in Davenport and 20 in Downtown Davenport. We also host exciting events such as Quad City Storm, NFL Sunday ticket giveaways, and other sports viewing parties. We've always got cold beer and the atmosphere is always welcoming. For great people, drinks, and Quad City Style Pizza, choose Bad Boy'z. Call ahead for reservations, carry out, or delivery today!